Rusnak/Westlake Audi, Serving Westlake Village, Calabasas, Camarillo and Simi Valley, Offers Auto Service You Can Rely On, Right Here in Thousand Oaks
There are a wide range of reasons that drivers from Thousand Oaks and beyond trust Rusnak/Westlake Audi to service their vehicle. Maybe you need some routine maintenance? Or, perhaps you're looking to replace your muffler from an accident? Or, perhaps you received a notice concerning a recall? In any case, our trained and confident automotive experts will be here to help you in any way they can. With years of experience and authentic Audi parts at their disposal, rare are the repairs they can't rectify with flying colors.
Ready to put us to work for you? Simply fill out our online appointment form to get started. With the help of Rusnak/Westlake Audi, you can count on many worry-free miles in your future.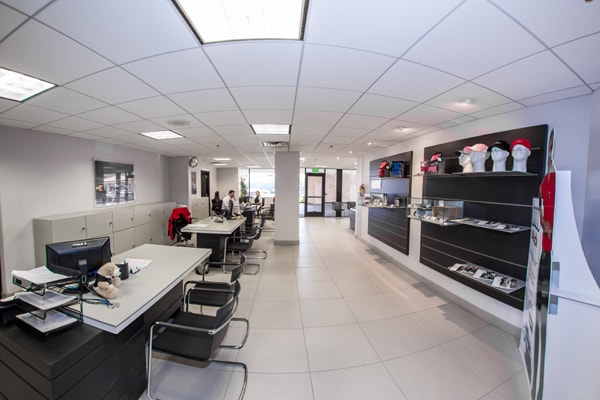 We made your Audi the superior vehicle it is today and we want to ensure it remains that way - whether it's taken you 10,000 miles or 100,000 miles. That's why Audi Westlake offers Audi Service and Repair, so you have access to the latest specialized technology and precise analysis from Audi trained technicians who undergo regular, frequent training so they're always up-to-date on every component of your vehicle.
By bringing your Audi vehicle to Audi Westlake for all your service and repair needs, from regularly scheduled appointments to major repairs, you can count on a continued driving experience unlike any other - for every single mile of your lease or ownership.
Rusnak Audi Westlake technicians are highly trained and certified to perform whatever work you may need on your vehicle including:
General Automotive Repair
Preventative Car Maintenance
Air Conditioning and Heater Service
Cooling System and Radiator Repair
Oil Change, Lube, Oil and FilterBrake Repair
Engine Diagnostic
Tune-UpBelts, Hoses, Fluids
Air Filters
Alternators
Batteries
Headlights
Starters
Transmission Services
Struts



Scheduling an Oil Change is Simple at Rusnak/Westlake Audi
You can schedule just about any service your car might need using our online form. So the next time your car needs an oil change, brake repair or any other service, don't hesitate to schedule it right here on our website.
Since scheduling your service is so simple, it's easy to keep up with your auto maintenance and keep your Audi in great shape. Cars need regular auto services like oil changes to keep running smoothly, and we make it easy to keep your vehicle healthy.
When you change your oil regularly, you're helping keep your engine running smoothly. Oil lubricates your engine and protects it from heat and debris. But as it ages, oil can collect debris that can damage your engine and it can start to break down, which can corrode your engine. In order to keep things running correctly, you need to remove the old oil and replace it with new oil on a regular basis. Some technicians recommend every 3,000 miles or every 3 months, but you can check your owner's manual to get a more precise timeline for your car.
This is just one of these services that's important to your vehicle's health. And since you have the option to schedule your service online with us, it's easier than ever to make sure your car never misses an oil change and is able to keep running at its best.
Feel free to schedule your next oil change right here on our website at your convenience. We will gladly take care of all your maintenance needs when it's convenient for you.
Quick Links
Service Specials | Schedule Service | Service Center Reviews

Rusnak/Westlake Audi
Audi Service and Car Repair Center
Serving:  
Thousand Oaks, CA
,
Los Angeles, CA
,
Westlake Village, CA
,
Calabassas, CA
,
Camarillo, CA
, and
Simi Valley
.
Directions
Schedule Service:
(888) 904-1875
3832 Thousand Oaks Blvd,
Thousand Oaks,
CA
91362